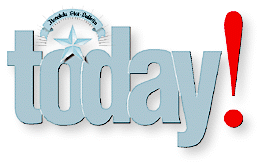 ---
Tuesday, January 12, 1999
Isle filming begins today for
a TV mini-series on the 'secret
life' of the tobacco heiress

By Tim Ryan
Star-Bulletin

ACTRESS Lauren Bacall portrays billionaire tobacco heiress and former Hawaii resident Doris Duke in the CBS television mini-series "Too Rich: The Secret Life of Doris Duke," which begins filming today on Oahu for nine days.

Richard Chamberlain, another Hawaii resident, portrays Duke's flamboyant butler Bernard Lafferty; and Mare Winningham plays Duke's adopted daughter Chandi Heffner.

The Von Zerneck-Sertner Films' production, under the moniker Duke Productions, is not using Duke's 5.5-acre Black Point estate Shangri La, but instead has rented another Kahala mansion where four days of filming will be done, said producer Randy Sutter. Kualoa Ranch and other Oahu locations also will be used.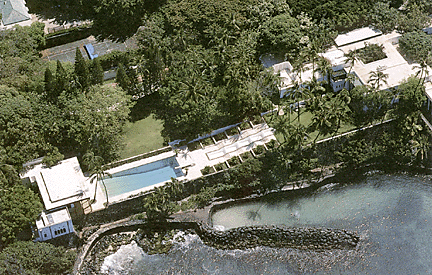 Above Hawaii/Cameron
The Doris Duke's estate at Black Point.
---
The daughter of American Tobacco Company and Duke University founder James Buchanan Duke, Doris Duke at her death in 1993 at age 80 in Los Angeles was one of the richest women in America, with an estimated wealth of more than $1 billion. Her Hawaii home, with its Olympic-size pool, is decorated with beautiful Middle Eastern tile work and houses a major collection of rare Islamic art and artifacts.

Duke's notorious executor, her former butler, the tippler and spendthrift Bernard Lafferty, had been placed in charge of the three new sub-foundations after her death despite a New York judge's insistence that he be barred from serving on the major foundation. Lafferty, who died in November 1997, was at the center of a storm about his role in Duke's mysterious death.

Air date for the two-night series has not yet been announced, Sutter said.

The series, which also has filmed in Montreal, Canada and Los Angeles, highlights a portion of Duke's life, including a period in Hawaii when she adopted the 35-year-old Heffner. The story does not include her friendship with former Philippines First Lady Imelda Marcos, who also lived in Hawaii and to whom Duke loaned $5 million.

The story is based in part on two biographies about Duke, including one by former Washington Post and Vanity Fair writer Stephanie Mansfield, Sutter said.

Three Hawaii actors have received speaking parts, including Ray Bumatai, who portrays Duke's chef; Carmella Barut, who is the doctor who tells Duke of her miscarriage, and John Yates, who plays the judge who signs Chandi Heffner's adoption papers. Local actor Wayne Geiger is the stand-in/double for Chamberlain.

Von Zerneck has produced several television films and motion pictures including "Don't Look Down" (1998); "Virtual Obsession" (1998); "Danger Island," (1992) and "I Married a Centerfold" (1984). (Ray Bumatai played Tupac in "Danger Island.")

Bacall has appeared in dozens of films, including most recently "The Mirror Has Two Faces," in which she played the vain and haughty mother of Barbra Streisand's character. Her earliest role was in the 1944 film "To Have and Have Not," which stamped her image of sultriness and tough sophistication.

At 20 Bacall starred with Humphrey Bogart in "To Have and Have Not." Shortly after that, they were married.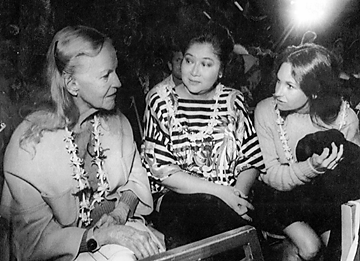 Star-Bulletin file photo
Doris Duke, left, with her daughter Chandi Heffner,
right, with Imelda Marcos at the Merrie Monarch Hula
Festival on the Big Island in 1989.
---
Chamberlain has created a singular position with the world of mini-series, having starred in some of the most dramatic and powerful productions in television history. Over the last two decades Chamberlain has starred in six of the most acclaimed mini-series including "Shogun," "Wallenberg," and "The Thornbirds." "Shogun" earned him a Golden Globe Award as Best Actor, as well as an Emmy nomination.

In 1961, Chamberlain starred in the title role of the TV series "Dr. Kildare," playing the popular physician for five years.

Mare Winningham, 39, broke out on the scene with the 1980's brat pack in the monster hit, "St. Elmo's Fire." Other films include "Turner and Hooch" with Tom Hanks. Winningham also is a musician with a new album, "Lonsomers," and has a part in the film, "Everything That Rises," directed by and co-starring Dennis Quaid.

In other Hawaii production news, MTV's immensely popular "The Real World" begins filming in Oahu later this month through May. Seven male and female young adults--probably ages 18 to 24--will live in a large East Oahu home and either operate their own business or work for a business in Waikiki. Producers declined to release most of the details of the show, including names of cast members, how many are males or females, or the locations of the home or business for security reasons, and to not ruin the documentary quality of the show.

The show, which will air later this year, is expected to spend about $5 million while in Hawaii, sources said.

The Real World was created by Mary-Ellis Bunim and Jonathan Murray.






Click for online
calendars and events.
E-mail to Features Editor
---
---
© 1999 Honolulu Star-Bulletin
http://archives.starbulletin.com