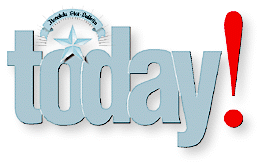 ---
Hawaii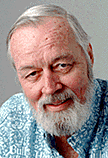 By Dave Donnelly
Tuesday, January 12, 1999
---
Bridges to past
build our future

THE theme of the Bill Clinton presidency was to have been "Building a Bridge to the 21st Century." That, of course, was before all the troubled waters started roiling underneath it. But bridge-building is still a popular intellectual concept, whether it's a bridge to the past or future. In Hawaii, it's often to the past. We see it in "Island Skin Songs" at Kumu Kahua, which spans the time chasm from 1804 to the present, examining sexual relationships in various periods. And "Bridging Past to Present" is the sub-title of "Hawaiian Voices," the latest documentary by Eddie & Myrna Kamae. The one hour film ran without commercial interruption (thanks, Tesoro Hawaii and the Movie Museum) on New Year's Day and again on Sunday on Channel 2. The station has received numerous calls from people wanting to buy a copy of the documentary, but it won't be available commercially for at least a year while the Kamaes personally take it to schools to show kids. It passes on Hawaiian culture and values from seniors Kamae knew when growing up: Mama Hala, Kahu Ka'alakea, Auntie Ruth Kaholoa'a. Our elders are, according to Kamae, "our window into the past and a way of keeping the culture alive." For more information on the film and Kamae's Hawaiian Legacy series, call Dicksie Tamanaha at 599-2738 ...

THE second shoe has dropped at the Halekulani and after nine years, Loretta Ables will be leaving the Lewers Lounge. Jan. 30 is her final evening there and she's already searching for a new slot. She was going to be terminated last month, but the hotel elected to keep her on through January. No word on a replacement, if any ...

Encore, Encore

THE scene was the Retail Merchants of Hawaii dinner last week. Gary Hahn, Joyce Okano Reed and Peter Schall used the opportunity to spring an invitation to Gov. and Mrs. Ben Cayetano to be honorary co-chairs of the third annual French Festival of Hawaii. The governor didn't even consult his calendar, but said he'd love to and the crowd went wild. Dates for this year's festival are Oct. 22 through Nov. 4 ...

AND Chuck Marshall of HMSA could scarcely believe his eyes when a long, shiny Lincoln Town Car pulled up in front of Teddy's Bigger Burgers on Monsarrat. Could that possibly be Ben Cayetano in old jeans and a faded flannel shirt picking up a "take-out"order? All eyes in the joint were on him and one customer asked, "Is that really the 'Big Cheese'?" Well, not to ruin a good story, but it wasn't the guv, though as Marshall puts it, "It could have been his stunt double ... right down to the black limo and big guns." (On the burgers, one assumes.) ...

No, not the Belmonts

BACK in my day, as geezers are wont to say, when you mentioned Dion, you followed it with "and the Belmonts." I think the old rock performer is still playing in oldies shows, but there's a new Dion on the scene: Celine Dion. She's winning awards right and left for that maddening "Titanic" theme song -- the "People's Choice," for example -- and is up for a Grammy for "Record of the Year." Celine, who performs Feb. 12 at Aloha Stadium as part of a Valentine's Day weekend, promises not to be a one song wonder. Her duet of "I'm Your Angel" with R. Kelly has been Grammy-nominated for pop collaboration with vocals as well ... Bluzilla, the music group, appears to have stronger legs than "Godzilla" even. Besides their regular Saturday night jams at O'Toole's and frequent appearances at Havana Cabana, they begin a regular Monday night gig next week at Nick's Fishmarket ...

---




Dave Donnelly has been writing on happenings
in Hawaii for the Star-Bulletin since 1968.
His columns run Monday through Friday.

Contact Dave by e-mail: donnelly@kestrok.com.
E-mail to Features Editor
---
---
© 1999 Honolulu Star-Bulletin
http://archives.starbulletin.com