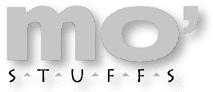 ---
Monday, January 11, 1999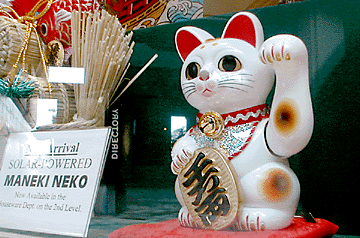 ---
Solar power
the cat's meow
Technology has finally caught up with a centuries-old Japanese tradition.

The maneki neko, or beckoning cat, sat in many a home for years, frozen in place -- its its left paw raised in the air to invite good luck. Of course, the dazed and confused may have mistaken this gesture to mean, "Don't shoot, I don't have fleas."

In a "why didn't I think of that" twist, you can now get a cat that's solar-powered, with a paw that moves up and down. "As long as there's light it'll move," said the Shirokiya's housewares department supervisor Sayoko Ogata.

Shoppers can see them in the window of Shirokiya's at Ala Moana Center. The newfangled cats are also at Shirokiya's at Pearlridge and on Maui.

And how much is that kitty in the window? It's $138 for a figure that stands about a foot tall.

Worried about spending all that money? Well, if your cat's working, the luck and bucks should be pouring in.






Click for online
calendars and events.
---
Send WatDat? questions, stories
or any other story ideas or comments to:
Features, Honolulu Star-Bulletin, P.O. Box 3080,
Honolulu, HI 96802 or send a fax to 523-8509
or E-mail to features@starbulletin.com.
Please include your phone number.
E-mail to Features Editor
---
---
© 1999 Honolulu Star-Bulletin
http://archives.starbulletin.com