---
Wednesday, January 6, 1999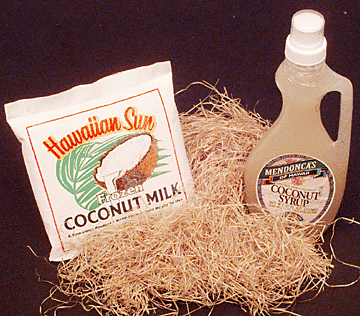 Coconut milk has been repackaged for easier use.
Coconut syrups add flavor the sauces and glazes.
---
Cool move
for coconuts
Hawaiian Sun now packages its frozen coconut milk in 12-ounce plastic bags, which makes for easier storage and use -- but more importantly, a lower price.

The bagged coconut milk is the same product, said Hawaiian Sun President Burt Okura. "Cooks will like it because it is easier to store."

The frozen bags stand up or lay flat, taking up less freezer space. Also, the cans sometimes rusted when they sat in the freezer for a long time, he said.

The bags open easily with scissors or a zip opener. The frozen milk can be cut in pieces so you use only want you need.

Okura recommends the coconut milk be only partially thawed before removing from the package. That way, the milk won't separate.

The plastic bag is cheaper for Hawaiian Sun to produce so consumers will see some savings at the supermarket; how much depends on retailers, Okura said.

Mendonca's of Hawaii introduced plastic-bagged coconut milk three years ago, said Debbie Behm, the company's vice president for marketing. It offers a 96-ounce bag for making large quantities of haupia or other coconut milk dishes. The company also provides recipes for quantity cooking, she said.

Mendonca's has also introduced a coconut-rich syrup that Behm says can be used like a fruit glaze on ham and poultry. The syrup is also good in barbeque sauces, in coffee drinks and smoothies, she said.

Mendonca's syrup is available at Star, Times and Safeway; the big bags of milk at Star and Times. The Hawaiian Sun products may be found at Star, Times and Daiei.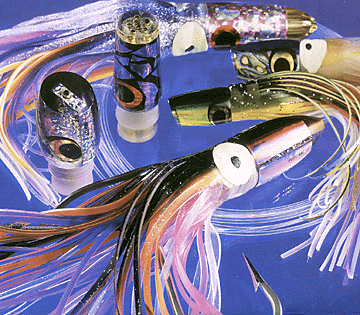 "Island Gifts To Go"
July spotlights Polu Kai Fishing Lures.
---
Calendar highlights
select local specialities

A baker's dozen of very, very local companies is featured in a glossy new calendar. The specialties these companies produce are so select most can be purchased only where they are actually cooked, baked or otherwise produced -- yet they are well-known and favorite island omiyage.

They include Ted's Bakery's haupia chocolate cream pie, Char Hung Sut's manapua and dim sum, Two Ladies Kitchen's strawberry manju from Hilo and Kanemitsu Bakery's fresh breads from Molokai.

Edward Enterprises put out the calendar, "Island Gifts To Go," for its customers and business associates, in part to show off the company's printing expertise but also to recognize high-quality local products. A few calendars are available by mail: Send $5 to Edward Enterprises, 641 Waiakamilo Road, Honolulu 96817-4423. If you pick it up in person, it's only $3.50. Call 841-4231.

Meatless diet to be discussed

KITV News 4 anchor and health reporter Dick Allgire will give a lecture on "The Truth, the Whole Wheat, and Nothing but the Veggies," 7 p.m. Monday at the Ala Wai Golf Course recreation facility, second floor. Based on work by Dr. Neal Barnard, Allgire will also discuss the relationship food has to pain. The event is free.

Explore Ash's culinary excellence

David Paul's Diamond Head Grill welcomes chef and author John Ash to its Center for Culinary Excellence. Ash will be preparing dishes from his cookbook "From the Earth to the Table -- John Ash's Wine Country Cuisine," noon Jan. 15. Following the demonstration, a luncheon will feature Fetzer Vineyards wines. Cost for the event is $45 per person plus tax and gratuity.

Those who prefer dining in the evening can enjoy Ash's creations on Jan. 16. At that time, Ash will join Chef David Paul Johnson in preparing a five-course fusion dinner consisting of an array of hors d'oeuvers accompanied by Fetzer's Bon Terra Chardonnay; Poblano, Tomatillo and Shrimp Chowder with Fetzer Gewurztraminer; Dungeness Crab, Cabbage and Apple Salad with Fetzer Reserve Chardonnay; Couscous Risotto with Wild Mushrooms and Smoked Tomato Broth with Fetzer Barrel Pinot Noir; Pepper-Seared Tenderloin of Beef, Ahi and Foie Gras Napoleon with Roasted Baby Blue Potatoes and Red Wine Onion Jus with Fetzer Reserve Cabernet; and Dried Tropical Fruit Compote and Creme Fraiche Pannacotta with Fetzer Reserve Mendocino Port. The fusion dinner costs $75 per person plus tax and gratuity. The restaurant will also be serving its regular dinner menu.

For reservations to either event, call 922-3734.

ABC's of wine

Hawaii Public Television's (KHET) "Celebrate Our Heritage" series will have a two-part discussion on the basics of wine as part of its "International Kitchen" show, 7 p.m. Jan. 16. Eddie Osterland, president of the Grape Escape Wine School, will explain the making, selection, storage, serving and tasting of wine. Viewers will also get a tour of his 5,000-bottle wine cellar.






Click for online
calendars and events.





---





Send WatDat? questions, stories
or any other story ideas or comments to:
Features, Honolulu Star-Bulletin, P.O. Box 3080,
Honolulu, HI 96802 or send a fax to 523-8509
or E-mail to features@starbulletin.com.
Please include your phone number.
E-mail to Features Editor
---
---
© 1999 Honolulu Star-Bulletin
http://archives.starbulletin.com