---
Friday, January 1, 1999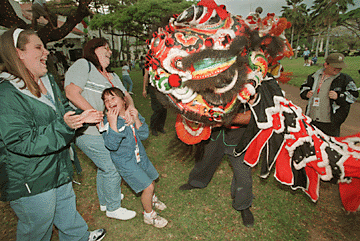 By Dennis Oda, Star-Bulletin
Jessica Simon, from left, mom Ann Tucker, and sister Maelani
Beralas enjoy a Chinese lion dance at the Starbucks Starlight
MADDness celebration downtown last night, ringing in 1999.
---
New Year's toll:
Haze, fires and
fracases


Aerial fireworks are blamed
for a $50,000 house fire
in Kaneohe

By Rod Ohira
Star-Bulletin

Investigators are blaming aerial fireworks for an early morning fire today that caused about $50,000 damage to a Kaneohe home.

"We found four rockets outside the window of the bedroom where the fire started," fire investigator Arthur Brown said of the 12:29 a.m. fire at 44-108 Malulani St. "They were likely shot from a hill in back of the house."

It's likely other rockets entered the unoccupied bedroom through an open window and started the fire because there was no evidence of an electrical short or smoking, said Brown.

"This is just another example of how dangerous aerials are," he added. "They don't always go straight. That's why they're illegal."

From midnight last night to 8 a.m. today, Battalion Chief Manny Neves said, the Honolulu Fire Department responded to 35 fireworks-related alarms.

Five structure fires, including a Christmas Eve blaze at a Hiaai Place residence, were caused by fireworks play and resulted in losses of nearly $600,000, Battalion Chief Manny Neves said.

Firefighters also put out a fire today at 2526 Makiki St. that caused $6,000 damage. Also, damage from two Makakilo rooftop fires last night in Makakilo were estimated at $29,500, Neves said.

"It seemed like the wet weather helped a lot," Neves added. "We didn't have a lot of runs but the ones we had caused substantial damage."

Lingering smoke from heavy fireworks play contributed to breathing problems for many residents and poor visibility for motorists.

The Fire Department made 56 medical runs to assist people with respiratory problems last night and early today, Neves said.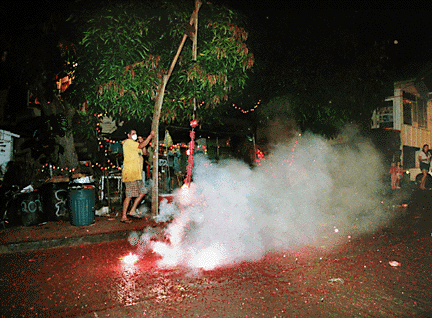 By Kathryn Bender, Star-Bulletin
The rain didn't slow these people down. Fireworks were part
of the celebration at the corner of Lusitana and Huali streets.
---
Twelve Oahu hospitals, meanwhile, reported treating about 40 people, mostly asthmatics, who had difficulty breathing. All but a few were treated and released.

"We were prepared for respiratory problems (last night) and expect more today," Kapiolani Hospital-Pali Momi nursing supervisor Anne Marie Seda said.

About 35 people, mostly adults, were treated at hospitals for fireworks-related injuries to the face, hand and feet.

The most serious case was at Castle Hospital where surgeons were trying to reattach a 40-year-old man's fingers. The man was injured playing withfirecrackers.

At Queen's Hospital, a 27-year-old man was being treated for injuries after being hit on the head with a rocket while a woman was admitted to Wahiawa Hospital with burns after someone dropped firecrackers down the back of her clothes.

Police had a busy night.

One man was stabbed and seven people were arrested following a 4 a.m. fight in McCully on the 700 block of Wiliwili Street.

Lt. Charles Wong of the East Honolulu patrol district said a man, 42, was stabbed in the face by one of seven men who allegedly "mobbed" him following an argument.

A 23-year-old man was booked for attempted murder. Six others were arrested for either second-degree assault for allegedly grabbing and shoving two police officers or for third-degree assault on the man who was stabbed.

Police recovered a 6-inch kitchen knife at the scene, Wong said.

The stabbing victim was taken to Queen's Hospital and later released.

Police also arrested two men in Ewa for allegedly firing guns into the air during a New Year's celebration on the 91-1100 block of Nale Street.

The men, ages 28 and 27, were booked for firearm offenses and second-degree reckless endangering. Police recovered a rifle, shotgun and casings at the scene.

Police also dispatchers received numerous complaints about poor visibility throughout the night.

"It was terrible," St. Francis-West overnight-shift nursing supervisor Michael Ragsdale said of his drive to work. "The smoke was really thick and the lack of tradewinds didn't help."
E-mail to City Desk
---
---
© 1999 Honolulu Star-Bulletin
http://archives.starbulletin.com