---
Island Images



Monday, December 21, 1998

Honoring land and sky
Photography by George F. Lee, Star-Bulletin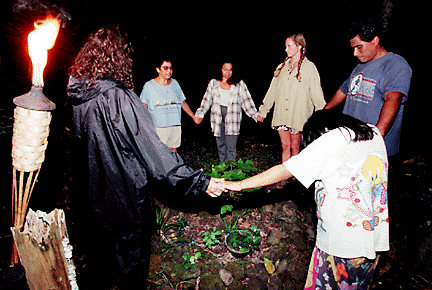 The Women of Hale o Papa held an overnight vigil in
Halawa Valley dedicated to the land and the sky. The
ceremony was held in conjunction with an observance
on the Big Island's Mauna Kea. Participants, clockwise
from left, Elan Papa, Toni Auld Yardley, Kahookele Burke,
Ninia Parks, Joe Kaahanui and Waiola Burke,
bow their heads during the ceremony.
E-mail to City Desk
---
---
© 1998 Honolulu Star-Bulletin
http://starbulletin.com