---
By Request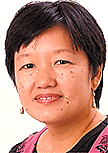 By Betty Shimabukuro
Wednesday, October 28, 1998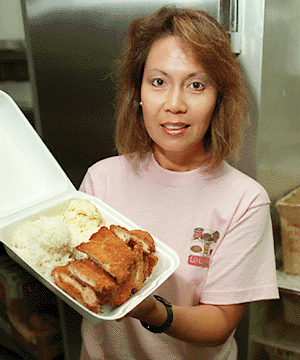 By Ken Sakamoto, Star-Bulletin
Elaine Tom, a partner with her husband, Derryck Tom,
in six L&L restaurants, shows their popular chicken katsu plate.
---
Plate lunch classics

Former residents long for
crispy katsu and isle-style curry

LISA Robbins and Marion Weston miss the good, old-fashioned Hawaii plate lunch.

Robbins is far from home in Tulsa, Okla., and despite occasional trips home finds herself in plate-lunch withdrawal. "Just writing about this makes my mouth water," she says.

She was especially a fan of the lunches at Rainbow Drive-In in Kapahulu -- particularly the curries, chicken cutlet and teriyaki beef.

Weston, meanwhile, sent in a special request for a chicken katsu recipe (can't get it in Carlisle, Penn., her current home).

Weston remembers frequenting the L&L Drive-Inn near the airport when she first moved to Hawaii from Germany in 1992. She was an L&L faithful until moving away. "I miss their food," she says.

Well, Rainbow Drive-In declined to participate in our plate-lunch extravaganza, but Eddie Flores at L&L was happy to provide the basic katsu recipe used by his chain. It's one of the most popular L&L dishes, right up there with barbecue chicken and short ribs.

By Ken Sakamoto, Star-Bulletin
L&L chicken katsu in a take-out container with the
requisite sides of rice and mac salad.
---
For Robbins, we have two curry recipes from "My Favorite Local and Ethnic Food Show," an annual publication of the Oahu County 4-H clubs. This is an amazing collection of local-style recipes, drawn from a yearly competition (the "show" of the title) that has involved Oahu 4-H'rs ages 9 to 18 since 1973.

These recipes were taken from the 1997 silver-anniversary edition, which includes winning recipes from all the years of competition. It is available through the Oahu County 4-H Organization, 962 Second St., Pearl City 96782, for $15. A new edition will be out early next year.

Included here are the 4-H formulas for chicken and shrimp curry. Be sure to add two scoops rice and macaroni salad.

Chicken Katsu

L&L Drive-Inn

2 eggs
3/4 cups cornstarch
1/4 teaspoon salt
1/4 teaspoon white pepper
1/4 teaspoon garlic powder
1 cup water
15-20 chicken thighs, about 4 pounds, boned and skinned
1 pound panko

Katsu Sauce
1/2 cup Worcestershire sauce
1 cup ketchup
1 cup sugar
2-1/2 cups water
1/3 teaspoon salt
1/4 teaspoon chicken bouillon
1/4 teaspoon white pepper
1/4 teaspoon garlic powder
2-3 dashes Tabasco sauce

Open the chicken thighs and flatten. Combine first six ingredients. Coat chicken in the egg batter, then the panko. Fry in oil (maximum 325 degrees) until brown and crispy.

To make sauce: Combine all ingredients and bring to a boil. Add cornstarch dissolved in water to thicken. Chill and serve.

Cut chicken into strips and serve with sauce. Serves 7-10.

Approximate nutritional analysis, per cup: 590 calories, 25 g fat, 2.5 g saturated fat, 110 mg cholesterol, 630 mg sodium.*

Chicken Curry

Oahu County 4-H

1 onion, sliced
2 tablespoons oil
1 whole chicken, chopped (about 6 pounds)
2 tablespoons flour
2 12-ounce cans chicken broth
3 potatoes, sliced
4 stalks celery, chopped
2 carrots, chopped
1 12-ounce can coconut milk
1 12-ounce can evaporated milk
2 tablespoons curry powder
1 each red and green bell pepper, sliced

Brown onion in oil until soft. Dredge chicken pieces in flour and add to the onions. Brown for 10 minutes over medium heat. Add broth and bring to a boil. Add potatoes, celery and carrots; simmer for 45 minutes.

Just before serving, combine remaining ingredients and add to pot, cooking until the sauce is heated through.

Garnish if desired with chopped apples, raisins, coconut flakes and/or mango chutney. Makes 12 1-cup servings.

Approximate nutritional analysis, per serving: 450 calories, 27 g fat, 11 g saturated fat, 100 mg cholesterol, 370 mg sodium.*

Shrimp Curry, Hawaiian Style

Oahu County 4-H

6 tablespoons butter
1-1/2 teaspoons finely chopped onion
4 tablespoons flour
1 cup milk
2 cups coconut milk
1-3/4 teaspoons salt
2-3 teaspoons curry powder
2 teaspoons finely chopped ginger
1-1/2 teaspoons lemon juice
1-2 pounds fresh shrimp, peeled

Melt butter; add onion and flour. Stir until a smooth paste is formed. Gradually add milk, stirring constantly, and bring to a boil. Add coconut milk when mixture begins to thicken, then add the remaining seasonings and shrimp. Simmer for 30 minutes. Serve with rice and garnishes. Serves 4.

Approximate nutritional analysis, per serving: 570 calories, 46 g fat, 34 g saturated fat, 230 mg cholesterol, more than 1,300 mg sodium.*





Send queries along with name and phone number to:
By Request, Honolulu Star-Bulletin Food Section,
P.O. Box 3080, Honolulu 96802.
Or send e-mail to features@starbulletin.com




Asterisk (*) after nutritional analyses in the
Body & Soul section indicates calculations by
Joannie Dobbs of Exploring New Concepts,
a nutritional consulting firm.







E-mail to Features Editor
---
---
© 1998 Honolulu Star-Bulletin
http://starbulletin.com