---
Monday, May 18, 1998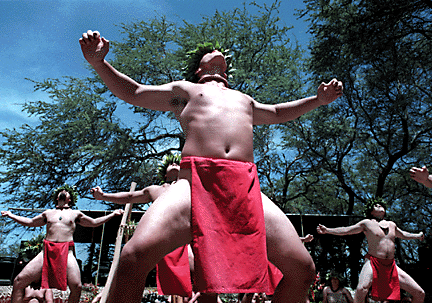 By Kathryn Bender, Star-Bulletin
Kekai Hoe and the men of Halau Hula O Kukunaokala
lift their eyes toward the skies in as they perform "Akua Ki'i"
depicting the carved images at a heiau on Molokai. The halau
won honors at the Merrie Monarch festival with this hula.
---
The birth of hula


At this hula festival,
it's the spirit, not the scores,
that count

By Kekoa Catherine Enomoto
Star-Bulletin

P APOHAKU BEACH PARK, Molokai -- The defining moment at Saturday's eighth annual Ka Hula Piko hula festival came three hours into the daylong celebration, when the host, Halau Hula O Kukunaokala, made a platform of stones -- a "pa pohaku" in this place called Papohaku.

It was the first and perhaps only time that the stone-platform-building ceremony would be performed in public. Thirty five dancers -- men and boys garbed in malo, and women and girls in dresses trimmed with turtle-imprinted gunnysack -- formed two lines facing each other. They chanted as they passed quarter-loaf-sized stones hand-over-hand toward the stage.

The crowd of some 5,000 festival goers stopped to watch in silence, mesmerized by the deep, rhythmic chanting and the reverential motions of the stone passers -- learned from John Kaimikaua, their kumu hula.

"Every chant that John Kaimikaua performs pertains to Molokai," said Ruby Low, chairwoman of the festival's food booths. "That's why the people give the dancers all their attention."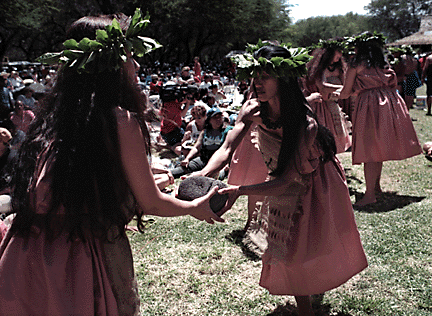 By Kathryn Bender, Star-Bulletin
The women of Halau Hula O Kukunaokala pass stones
hand-over- hand to the stage as they enact a platform-
building ceremony.
---
In all, attendees were treated to 101/2 hours of dance and entertainment by nine hula groups representing Kauai, Oahu, Molokai, Big Island and Japan, plus six musical groups from Molokai, Oahu and the Big Island.

"This event is a fun thing," said Moana Dudoit of Moonui, co-kumu hula for more than 30 years of Moana's Hula Halau on the Friendly Isle. "You just come and show what your haumana (students) have learned and you do it in a beautiful way.

"The Merrie Monarch (hula competition) is stressful, because everybody has to be so-so, and everybody has to be as one to dance. Here if you make a mistake, nobody is going to judge you on that. At Merrie Monarch, if you make a mistake, so many points come off (the score)," she said.

Groups of kupuna dancers in the Tokyo Hawaiian Fun Club performed demure hula while wearing gold T-shirts, shirred skirts and silk hibiscus in their hair. Kumu hula Kanani Brighter brought 70 dancers, ages 3 and up. He moved to Molokai five years ago and found a laid-back atmosphere.

"I guess it's the environment that makes the people more settled back," he said. "Like, in town if they're shopping, they'll stop (their cars in the street) and talk story. And the ones in the back will wait patiently. ... It's like the street is only so long, so they no care, you know."

Calvin Hoe of Waikane, Oahu, came with his sons, who dance for Kaimikaua, and brought along his handmade hula implements to sell in the crafts booths.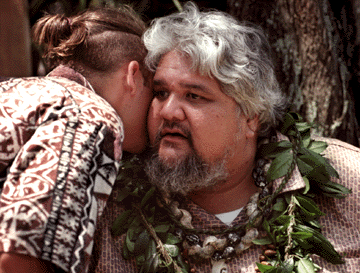 By Kathryn Bender, Star-Bulletin
John Kaimikaua, who founded Ka Hula Piko
seven years ago, receives a greeting.
---
"Same or different, Molokai doesn't change too fast," Hoe said. "And that's good. It's a good celebration, a lotta local people come to this one. I get to watch beautiful hula, listen to beautiful music -- ho, that's a good way to do things," he laughed.

The first impression of the festival was of a small village of tents. Molokai residents take the opportunity to camp on the Friday and Saturday nights of Ka Hula Piko. Then came the smell of frying fish and the splashing sound of wet fish hitting hot grease. The Ice House concessionaires spear, clean and serve 1,000 kole, a black reef fish, on $6.50 fried-fish plate lunches.

The sun beats down benignly, filtering through a lace of tree branches. Youngsters head for the ocean to bodysurf in gentle shorebreak in the middle of Papohaku's crescent of gold sand beach, roughly two times longer than Ala Moana Beach, but with just a sprinkling of people.

The Big Island's musical Lim Family and their Nalei O Kaholoku halau, under the direction of sisters/co-kumu hula Nani Lim Yap and Leialoha Amina, danced to honor Big Isle places. They clacked pu'ili (split bamboo rattles) to "Nani Waimea"; twirled 'uli'uli (feathered gourd rattles) to "Hi'ilawe," about the twin waterfalls of Waipio Valley; and depicted singer/composer Keali'i Reichel's "E O Mai" in their signature red-velvet holoku gowns.

Low said that two years ago, after the Lims' brother died, the family performed at Ka Hula Piko and then returned home to bury their kin.

"That's why everybody on Molokai loves them dearly -- like we do with John (Kaimikaua)," Low said.

Perhaps a lesson of the Friendly Isle is that aloha is reciprocal. To give is to more than receive.

Kaimikaua founded Ka Hula Piko seven years ago and has seen it become the biggest event of the year on the island of Molokai.

"All the dances that you see today, I did not choreograph any of them," Kaimikaua said. "They were taught to me that way and the motions are precise, specific. There's meaning for every movement in the dances and that's why it was done that way anciently and why it was preserved that way until it was given to us."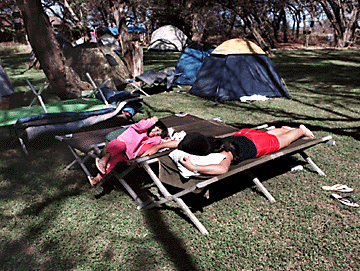 By Kathryn Bender, Star-Bulletin
Katie Saiki, 13, and 3-year-old Jerianne Kaahanui,
were among many who camped out at Papohaku
Beach Park for the hula festival.
---
He was speaking of Ka-Wahine-Kapu-Hele-I-Ka-Po-Kane (Sacred Woman Traveling on the Night of Kane), the Molokai kupuna (elder) who taught him 156 Molokai chants, ranging in length up to 928 lines.

"When she had given me this knowledge, she left me with a responsibility," he recalled of his late teacher. "Back then I didn't understand what that responsibility was. After I opened my halau, I understood the fullness of that responsibility, which was to enlighten and educate all people about our culture.

"When she had given me the genealogy and completed my training, she told me, 'This knowledge that I gave to you was once a great and mighty tree, whose branches spread to all of the islands. And in time, all of the branches died and all that remains is the root. I give to you this root to plant upon the Earth, to make this tree flourish and grow and spread, as it once was in times past.'

"And so, she -- seeing Ka Hula Piko -- would be very happy," Kaimikaua said, "because it's planting and growing the knowledge and the chants that she had given to me (which) are an unbroken oral history of our people for one thousand years."




Moloka'i Ka Hula Piko—
A Celebration of the Birth
of Hula on Moloka'i

Rooms and cars on Molokai book up six months to a year before the annual Ka Hula Piko. Plan now for the 1999 event:

Call: Moloka'i Visitors Assocation, (800) 553-0404 in Hawaii; (800) 800-6367 from the mainland.

Lectures, tours: Start Tuesday before Saturday's celebration.







---
---
© 1998 Honolulu Star-Bulletin
http://starbulletin.com