---
Tuesday, April 7, 1998


Pageant has isles
sitting pretty


Approval for the state's $3.3 million
outlay isn't 'universal,' but you
gotta spend it to make it, backers say

By Tim Ryan
Star-Bulletin

With the state's budget problems, some question spending $3.3 million of precious taxpayer bucks to host the Miss Universe Pageant.

In fact, a Star-Bulletin poll conducted last month showed that 54 percent of respondents disapproved of the allotment; 32 percent favored it. But others stick with the business adage that to make money, you gotta spend money.

One of those is Marvin Silverman, vice president and general manager of Legends in Concert in Waikiki.

Silverman thinks that Gov. Ben Cayetano showed "tremendous courage" and foresight in pursuing the pageant and spending the money for it.

"As a businessman I think it's a pretty smart investment," Silverman said.

Al Masini, who is producing the Hawaii portion of the pageant, agrees.

"Any business or state experiencing financial difficulties must trim expenses and streamline, but at the same time must never lose sight of the need to spend money if it will generate more income," said Masini, who is not being paid for his pageant work. "Remember -- tourism is the basic to Hawaii's economic health."

Silverman said that while there has been public criticism about using money that may take funds away from the state's social needs, "the pageant puts Hawaii on the world stage to show hundreds of millions of people how beautiful we are and what there is to do here."

The 1998 Miss Universe Pageant will cost $5.3 million to produce and broadcast on television. Besides the state's $3.3 million, the amount includes about $2 million in donated services from island business. Part of the state's cost, $1 million, is the site fee -- what Hawaii is paying the Miss Universe Pageant partnership -- Donald Trump and CBS television -- to have the contest in the islands.

About $1.9 million must be fed back into the local economy under conditions of the funding, so the pageant costs the state $1.4 million, Masini said.

Masini, who created such TV programs as "Entertainment Tonight," "Solid Gold," "Lifestyles of the Rich and Famous" and several other syndicated programs, compared the Miss Universe Pageant to the Olympic games in terms of viewer numbers. It is expected to be broadcast in more than 75 countries and be seen by 2.5 billion people.

Immediate economic benefits are plentiful, said Tony Vericella, president and CEO of the Hawaii Visitors and Convention Bureau and a key player in bringing the pageant to the islands.

"As many as 2,000 pageant attendees -- delegates, CBS and Miss Universe staff, family members and friends, and news media -- are expected to generate $9 million in local spending," he said. "The April-May time period in Hawaii is a slow season for visitor arrivals so this extra activity is coming at a very good time."

Sponsoring a similar show on a major TV network would cost at least $5 million and commercials would not be part of the deal, Masini said. Such a program would only air in the United States; adding the other countries would increase the cost enormously, he said.

During the pageant broadcast, Hawaii is guaranteed 10 minutes of air time, including three minutes of documentary to showcase the state's natural wonders, aloha spirit, culture and history, diversity of experiences and the new Convention Center.

Hawaii also will receive additional advertising time in key Asian markets, including two extra minutes in Japan and an extra minute in South Korea, Hong Kong, Taiwan, China, and the Philippines.

And the pageant isn't just a one-night wonder, Vericella said.

"There's going to be weeks of on-air promotions by CBS in the United States, and each country and station carrying the program will promote the show with 'The 1998 Miss Universe Competition from Hawaii'," he said.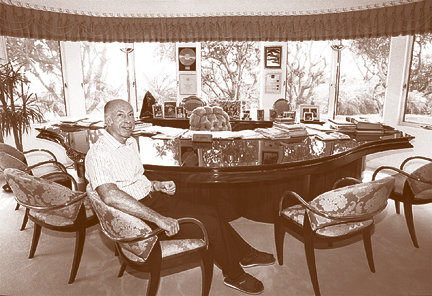 By Ken Sakamoto, Star-Bulletin
Al Masini will produce the Hawaii portion of t
he 1998 Miss Universe Pageant.
---
There's also numerous events -- many open to the public -- leading up to the May 12 pageant that will be covered by the international news media, Vericella said.

A parade and 13 other events that contestants will attend will receive local, national and international news coverage, Vericella said. "The same footage will be sent to every CBS affiliate in the country, providing Hawaii worldwide coverage for the 17 days leading up to the pageant."

There are long-term benefits, too, Vericella said.

He estimated that as a result of the publicity, there will be millions of dollars more in visitor spending generating tax revenues from new visitors coming to Hawaii during the two years after the pageant.

And since local pageant organizers had to assemble and analyze existing footage on Hawaii, the Hawaii Visitors and Convention Bureau can easily produce a promotional hour-long program on Hawaii from their work.

Masini described that program as "a glamorous, celebrity-driven show."

The program would be constructed so each island would have its own segment. This footage can be used in whole or in part by the HVCB and its island chapters for a variety of marketing purposes, Vericella said.

Under its contract with Miss Universe, Hawaii also has the right to produce a behind-the-

scenes show, "The Making of Miss Universe," for distribution worldwide. The program may be done in other languages in order to sell it out of the United States.

Domestically, the show most likely would be broadcast on the E entertainment cable channel, Masini said.

Local organizers also are considering publishing Hawaii-themed Miss Universe calendars and playing cards.

The Hawaii pageant will introduce a new theme and the song, "Have You Seen These Islands" (performed by isle singer Danny Couch), which will also be made into a series of one-minute commercials for future use.

"Considering that commercials can cost up to $1 million each, this will be a valuable by-product of the program," Masini said.

The pageant is "a win-win situation" for Hawaii, Masini and Vericella say. And if it is successful, it can be done again; Hawaii has the option of hosting the Miss Universe Pageant in the years 2001 and 2004.

"The state is stretching a few dollars investment for an advertising campaign Hawaii could never afford," Silverman said.

"We'll get back in taxes more than we'll spend on the pageant itself before it closes shop.
---
---
© 1998 Honolulu Star-Bulletin
http://starbulletin.com