---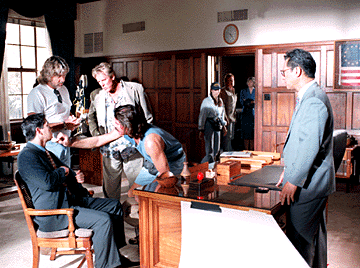 By Ken Sakamoto, Star-Bulletin
Cast members of the new 'Hawaii Five-0' pilot take a break during
filming in Mayor Jeremy Harris' office yesterday. Russell Wong, left,
gets a touch-up from the crew while director Bradford May discusses
the scene with Gary Busey, playing detective Jimmy Xavier Banks.
At right, Esmund Chung plays Lt. Gov. Aaron Oka.
The Stephen J. Cannell pilot began filming this week.
---
Familiar faces
of 'Five-O'
strengthen Hawaii roots
By Tim Ryan
Star-Bulletin

Michael W. Perry is a defense attorney trying to keep Hawaii's top crime figure out of jail.

The two reporters badgering Perry -- aka Arnold St. Clair -- look familiar: They are Cynthia Yip, formerly of KITV, and Dave Carlin, an anchor at KGMB.

And isn't that Russian bad guy, Col. Yodin, really Achilles Gacis, an English teacher in Honolulu?

And his henchman, Uri, looks like local builder Anthony Eidson?

Then who's this detective Rellica Sunn person? Has surfing legend Rell Sunn left the beach for the cop shop?

Has all of Honolulu gone "Hawaii Five-0" crazy? It just seems that way.

Of the 27 acting roles -- not the nameless-faceless extras -- for the "Five-0" pilot being filmed here, 20 have gone to locals.

The show's five main detective characters are Gary Busey as Jimmy Xavier Banks (the character's name was changed from Xavier Berk); Russell Wong as Nick Wong (from Nick Irons); Elsie Sniffen as Rell Sunn (from Rellica Sunn); Steven Flynn as Ken Vassey; and Andy Bumatai as Danny Kahala.

Three other actors with important roles are former islander Branscombe Richmond, as crime figure Napoleon DeCastro; Natasha Pavlovich, who plays Shana Dennis; and James MacArthur, as Gov. Danny "Danno" Williams.

Five regulars from the old show are back: Kam Fong as Chinn Ho Kelly; Gil "Zoulou" Kauhi as Kono; Moe Keale as Truck Kealoha; Herman Wedemeyer as Duke Lukela; and Harry Endo as Che Fong. Wedemeyer and Endo will appear on camera rather than just a voice as written in earlier scripts.

The Sunn character got a name change this week when the real Rell Sunn let friend Bumatai know that everyone had been teasing her, calling her Rellica. The name apparently comes from a book by writer Steven Cannell, who also wrote the "Hawaii Five-0" pilot.

"It was an Eurasian character that was strong and disciplined, and that's good," said Sunn, laughing. "But people are just calling me that instead of my name. And I don't really like being considered a relic."

Bumatai apparently talked to Cannell about changing the name to Rell, which Sunn gave producers permission to use without payment.

"But my nephew really could use some acting work," she said. "Hint, hint, hint."

Bumatai's character is similar to one he played in another Cannell show, "Marker" -- Danny "Pipeline" Kahala.

"You know what he really wants it to be: Danny Makaha," Sunn said.

Who's Who in the pilot's
local casting for 'Five-O'
Here's a list of local actors in the "Hawaii Five-0" pilot:

Michael W. Perry is defense attorney Arnold St. Clair. Perry is most well known for his KSSK morning radio show with co-host Larry Price and as host of Hawaiian Moving Company.

Scott "Ace" Augafa, a bouncer at the Club Rock-Za, portrays Junior Zeban, the bodyguard for crime figure Napoleon DeCastro. Augafa has worked on the "Byrds of Paradise" and "Marker" television shows.

Duff King, a local stuntman and well-known hang glider, plays Alex Bowland, the head of the "Five-0" team, in a non-speaking role.

Esmond Chung portrays Hawaii's Lt. Gov. Aaron Oka.

Carmella Barut, a regular on "Magnum, P.I." and "Island Son," plays Nick Fong's secretary.

Achilles Gacis is the Russian Col. Yodin.

Anthony Eidson is Uri, Yodin's henchman.

Elissa Dulce plays a nurse. Dulce is a local actress who used to dance in Zoulou's Waikiki show in the early 1970s.

Dennis Chun, Kam Fong's real-life son, is the emergency-room doctor trying to save Gov. Williams' life.

Alex Garcia and Leighton Kaunohi Sr., real-life Honolulu police officers, play, what else, police officers.

Eden-Lee Murray is Katarina Leninsky, who complains to police about a robbery.

Cynthia Yip and Dave Carlin are pushy reporters.
---
---
© 1997 Honolulu Star-Bulletin
http://starbulletin.com