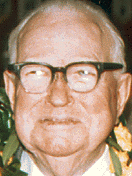 Hotelier Kelley
dies at 91

A person of vision and vigor,
he founded the Outrigger chain
By Harold Morse
Star-Bulletin

Roy C. Kelley, a pioneering giant of the Hawaii hotel industry who played a larger than life role in island tourism, died last night at his Waikiki condominium. He was 91.

Funeral services are pending.

He is survived by wife, Estelle, son Dr. Richard R. Kelley, daughters Jean Rolles and Patricia Kelley; 11 grandchildren; and 17 great-grandchildren.

Kelley, arriving in Honolulu from California as a young architect in 1929, soon turned to developing small apartment buildings in Waikiki.

In 1947, he opened the Islander Hotel - the first in the line that was to become Outrigger Hotels &AMP Resorts. The company now owns and/or operates 29 hotels and resort condominiums throughout the Hawaiian Islands and the Pacific. Outrigger's affiliate, Outrigger Lodging Services, manages more than two dozen hotels and resorts throughout the U.S. mainland. The family also owns several ancillary businesses. Sales exceed $340 million annually.

When Kelley entered the tourism business in the early postwar era, Hawaii had very few hotels - all in the luxury class. And the 25,000 visitors in 1947 were mainly affluent and sophisticated travelers who came on luxury ocean liners. The Kelley strategy was to offer lodging at prices that would attract vacationers of moderate income. His chain grew steadily, and after jet travel began in 1959, his fortunes skyrocketed. In 1967, the visitor count reached one million and is now 6.5 million.

Kelley, a true entrepreneur, was an idea man and innovator. With quick reflexes, he displayed a gambler's instincts in pursuing opportunities. But he had much more than vision and drive - enough more to dominate every element in building his empire.

Kelley was architect, designer, engineer, contractor, administrator and often his own financier. He worked long hours, seven days a week, doing the menial jobs and manual labor - whatever it took to keep things moving and get them done the way he wanted. For the first years, Kelley and wife Estelle ran virtually a mom-and-pop operation - she also performing or supervising many tasks.

And even after success and fortune came, Outrigger Hotels remained very much the personal, tightly held domain of Roy and Estelle Kelley. Gradually, they eased away from day-to-day control and in the late 1980s passed it along to son Richard. In turn, Richard Kelley's son-in-law, David Carey, became president of Outrigger Hotels Hawaii in 1988.

Other younger family members also joined the enterprise. Throughout, the company has been guided by basic Kelley philosophy - run an efficient operation and give visitors an attractive time at bargain rates.

Kelley, born Aug. 31, 1905, in Redlands, California, to Lewis Franklin and Minnie Mae (Hutchins) Kelley, graduated from the University of Southern California's School of Architecture in 1927. He worked as an architect in the Los Angeles vicinity for the next two years.

He married Estelle Foote in May 1929, and four months later they sailed for Hawaii.

Kelley was with the C.W. Dickey architectural firm from 1929 to 1938, but during that time he also developed several small apartment buildings. The first property was a 5,000-square-foot lot at Seaside and Kuhio Avenues in Waikiki, purchased in 1932 for $5,000, where Kelley built a home and six apartment units.

After the Pearl Harbor attack, Estelle Kelley and the three children - Richard, Jean, and Patricia - went to California, where they stayed until 1944. Roy Kelley rejoined the family in 1942, but soon after an eye ailment left him completely blind. Surgery at the Mayo Clinic in Minnesota restored partial sight in his right eye, but his left eye was permanently blind. Kelley returned to Hawaii in 1943 to resume his business activities, and the rest of the family followed in 1944.

After World War II, Kelley went from building apartments and cottages to hotels. After the thriving 38-room Islander came the Edgewater - the first building in Hawaii with an automatic elevator. He also built the Reef, the first high-rise on Waikiki Beach, and several others before pulling off one of Hawaii's most celebrated real estate coups. In 1963, when a lease for the prime Outrigger Canoe Club property on Waikiki Beach was in negotiations between the lessors and the Sheraton Hotel group, a stalemate developed.

Kelley swiftly made his own offer, which was accepted. The property became the site of the flagship Outrigger Waikiki.

Despite his partial blindness and a limp from a 1952 automobile accident, the big, genial tycoon remained a dynamic force in Hawaii's tourist business into his 80s.




---
---
© 1997 Honolulu Star-Bulletin
http://starbulletin.com