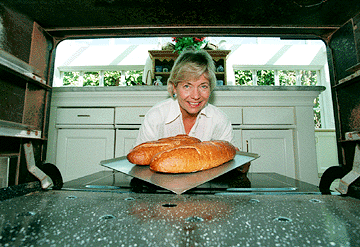 Photo By George F. Lee, Star-Bulletin
Moneen Bradley takes bread from her huge oven in her home kitchen.
---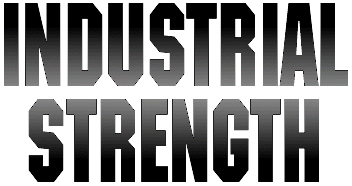 Kitchens meant for heavy duty cookin'
By Tim Ryan
Star-Bulletin
---

During a recent visit to a new $10 million home, I joked to the proud owner that , "Yeah, everything's beautiful but why aren't there any refrigerators in the kitchen?"

"There are," he said smugly. "Seven."

Then he opened the two six-foot doors in front of me and six other under-counter "refrigerator" cabinets strewn around the kitchen which had all the exterior surfaces matching the real cabinetry.

Silly pedestrian me.

What I was looking at were state-of-the-art built-in refrigerators made by the half-century-old Sub-Zero Freezer Co. of Madison, Wis. The standing refrigerator-freezer unit was one of the company's large restaurant-like machines that houses two compressors to maintain different, precise temperatures both in the refrigerator and freezer compartments . The refrigerator and freezer are sealed from one another to prevent food orders from mingling.

The list of technological advances and conveniences in refrigerators - and other kitchen appliances - is growing to enable them to do more so we can do less. And if you think the automatic ice-cube maker in your current refrigerator ranks right up there with the wheel, then how about an ice-maker that lets you choose the consistency of that ice - from crushed to cubed - with the turn of a knob? Then there are shelves that lift up to provide headroom for tall bottles and slide out in the down position for easy access to items stored in back.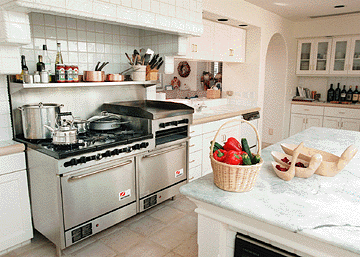 Photo By George F. Lee, Star-Bulletin
Many serious home chefs prefer restaurant-grade stoves like this one.
---

Stoves, cook tops, convection ovens, and dishwashers continue to evolve in response to the demands and needs of both professional and at-home cooks. Appliance enhancements, industry sources say, are in response to renewed popularity of the kitchen as a center of contemporary family life. For some families the kitchen is the most used room in the house.

"Families are spending more time in the kitchen so appliances have become the design focal point, and consumers want their appliances to look good and...perform even better," said Fred Turner, vice president of sales for the Frigidaire Co. in Dublin, Ohio.

The majority of people remodeling or buying new homes want the better brand name appliances, said Michael Smith, a certified kitchen designer and owner of Kitchen Concepts Plus in the Gentry Pacific Design Center. The kitchen remodeling jobs Smith works on have been in the $45,000 to $50,000 range with about a third of the budget spent on appliances.

"People are far more knowledgeable about what's available and aren't content with just accepting what builders provide," he said. "They want features, better quality, longer warranties, convenience."

Bob Riggs, president and CEO of Sub-Zero, says some of the popularity for the high end appliances is that homeowners want to give the impression that "a serious cook works in this room." (Professional series stoves start at about $3,000; built-in refrigerators $2,900 to $5,000; stainless steel, super quiet dishwashers featuring special cycles for washing china, crystal, and stemware, as much as $2,000.)

But is that true?

"Not all the time," he said. "The appliances look secure and sturdy and are reliable as well as provide a beautiful clean design. What they tell people is these homeowners mean business about their cooking."

Sub-Zero for decades have been the standard by which other refrigerators have been judged. A producer of standard-size, built-in refrigerators and freezers, Sub-Zero has seen its Hawaii sales climb about 8 percent since 1992, Riggs said. Sub-Zeros usually are the refrigerator of choice for many housing projects in Hawaii, including some central Oahu developments and the golf course homes to be constructed on Lanai.

The company recently introduced a new concept in home refrigeration with the Integrated 700 Series, a system of under counter cabinets and drawers that offers refrigeration in a number of configurations for any room where it's needed.

Homeowners can mix and match to get just the right amount of storage and put it right where they want it. The mix of options makes the units blend into cabinetry even more than standard built-in refrigerator-freezers.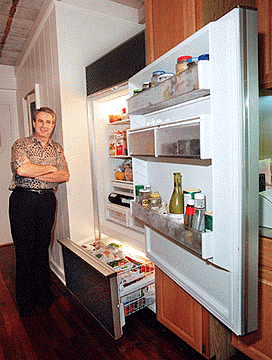 Photo By George F. Lee, Star-Bulletin
Robert Riggs displays an adjustable Sub-Zero refrigerator.
---

"It's revolutionary," said Riggs who is in Honolulu to attend the Building Industry Association of Hawaii and Remodeling Show Dec. 5-8 at the Blaisdell Exhibition Hall.

In the past 20 years, kitchens in new and remodeled homes have increased in size and complexity to such an extent that having a cooking center that is truly cutting edge can now cost about as much as the house may have. While many a remodeler may end up packing a kitchen with more conveniences than the average family requires, what's important depends, of course, on family dining habits and the particular needs of whoever cooks.

When Helen Mayeda's family decided to remodel their Palolo kitchen, she pushed for a $4,400 Sub-Zero refrigerator because "it would fit flush against the wall,

isn't too deep, the exterior surface could be made to match the cabinets, and it's quiet." She especially liked having the freezer and refrigerator separated to prevent drifting food odors.

"Now the onion smell doesn't drift into my ice and the lettuce never freezes," she said.

Remodeling the kitchen for the Joanie Teruya family of Waialae Iki meant replacing all the appliances. They cost more than $7,000 and included a Sub- Zero, Gaggenau cooktop and oven, and Bosch dishwasher.

"The stove uses a halogen light and cooks so much faster than electric...it's real easy to clean," she said. With the dishwasher, "I don't have to rinse dishes so well before I put them in and they still come out real clean."

A popular feature these days for home kitchen ranges is the continuous burner surface that was previously only available for commercial kitchens. Both gas and electric - or combinations - are available.

Thermador makes a six-burner continuous surface gas cooktop that features a wavy black grating/grid able to handle any size or shape of cooking pan, about $2,200. Jenn-Air has a practical cooktop arrangement that's made up of three modules: two pairs of continuous burners, a grill and a flush-mounted down-draft vent. The 48-inch model is about $1,700.

Richard and Moneen Bradley, owners of Sunset Grill, installed a commercial stove eight years ago in their Kahala home because a hybrid variety for home use had not been developed.

"Our kids were little then and we did a lot of cooking and entertaining; the ovens are huge, so great for baking," Moneen said.

For their new Napa Valley home, the Bradleys are considering a hybrid commercial stove made by Wolf - $3,800 to $8,700 - because it's made to fit within regular cabinet depth, is well insulated, and the gas burners provide higher BTUs for more accurate temperature control.




---
---