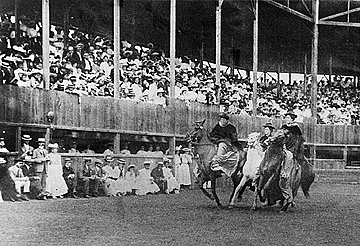 Honolulu Stadium opened in 1926, a place not just for
sporting events, but for pa'u riders and concerts.
---
Honolulu Stadium:

Hawaii's field of dreams
By Tim Ryan
Star-Bulletin
---

BABE Ruth played there, Jessie Owens ran there, Elvis sang there. There were polo games, barefoot football games, minor league baseball games. And rodeos, spiritual crusades, hula festivals.

Honolulu Stadium wasn't just an arena, a place where events took place. Ask those who played there, coached there, worked there, gathered there during its nearly 50 years of existence. They speak of the former wooden structure at the corners of King and Isenberg in reverential tones, referring to it as an old friend, some even, as a family member.

"It creaked, actually creaked, like it was alive; (it was) kinda spooky," says Larry Price, KSSK radio personality, who worked the stadium as a player and coach.

"It was a place for Hawaii to play," says producer-director Scott Culbertson, who has just completed the one-hour "Honolulu Stadium: Where Hawaii Play-ed" for Hawaii Public Television's "Spectrum" program airing Wednesday and Dec. 1.

Culbertson combined vintage still photographs from the stadium's heyday with current footage and narrative from locals, like Price, who knew the stadium well.

Honolulu Stadium was built in 1926 when Oahu's population was less than 200,000. Wallace Farrington was mayor, some Japanese women walked the streets in kimonos and Oahu's tallest structure was Aloha Tower.

Later the stadium would be dubbed the "Termite Palace" for its pest-infestation, but while it shined, the stadium was home to high school football games, winter league baseball, polo matches, stock car racing. It also saw its share of legendary performers: Irving Berlin in 1945, Presley in 1957, and Billy Graham in 1958.

The park was demolished in 1976 after Aloha Stadium was completed. On the two-acre site today is Stadium Park.
People were still lining up for tickets in 1975.
A year later, the stadium was no more.
---

"Honolulu Stadium" takes viewers through five decades of memories, familiar faces and voices, including: Fred Antone, "the voice of the stadium"; legendary St. Louis coach Francis Funai; Kamehameha coach Cal Chai, whose father played against Babe Ruth at the stadium; "The General," broadcaster Les Keiter; Tommy Kaulukukui, the UH's first All-American football player and later a UH coach; another local football star, Herman Wedemeyer; Jim Leahey, broadcaster and son of famed Hawaii broadcaster Chuck Leahey; and Harold Bell and Richard Dias, who for 40 years were stadium ushers.

The still photographs remind viewers of a kinder, gentler, slower-paced Honolulu. But is is the voices of locals and their soft-spoken memories that will give you chicken skin.

Leahey recalls needing a student ID to get in for free and the "very grouchy Portuguese gatekeepers who took no excuses" for having the wrong one.

"Honolulu Stadium was part of the family," he says. "It was the greatest babysitter in the world. Parents would sit in the stands while their kids played in right field and caught flyballs."

"Money would fall through the cracks under the seats and kids would always be searching for it below," an usher says. "Some kids used to spill malts and drinks on us deliberately so we would have to wear jackets to stay dry!"

Honolulu Stadium was "the people's stadium," Culbertson said. Surrounded by houses and yards, its neighbors would hear the games in their living rooms, or have fly balls land in their yards.

The stadium held about 24,000 people but at times as many as 30,000 crammed inside. Not bad for a venue with just 87 parking stalls, including 11 for management and eight for the media.

But the lack of parking created more of a community feeling, not less. People forced to walk for blocks through neighborhoods bought shave ice, saimin or sweet bread from sidewalk vendors, Culbertson said.

"Part of the event was finding a place to park," he said. "You paid someone to park in their lot or yard or you parked at Central Union Church and took the bus."

Viewers also learn some of the stadium's secrets.

Since the press box was so far from the bathroom, some reporters relieved themselves in coffee cans rather than risk missing a crucial play, Culbertson said. Then when the can was full, well, look out below.

The groundskeeper kept dogs in a pen at the stadium, letting them out at night to patrol the place. He also grew vegetables behind the makai bleachers.

The best seats were in Section 6 on the 50-yard line because these were covered from the "Manoa Mist" by the press box's overhang.

The stadium was built by a private developer for about $150,000 who then sold shares to Hawaii's movers and shakers. Five years later the UH bought it from them.

Communities need a place to rally around and Honolulu Stadium was that place, Culbertson said. "We lost some innocence and sense of community when we lost Honolulu Stadium," he said. "It was made of wood and warmth; it was Honolulu's field of dreams."




---
---