The GREAT OX ELECTION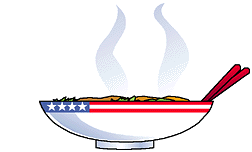 Photos By Ken Sakamoto, Star-Bulletin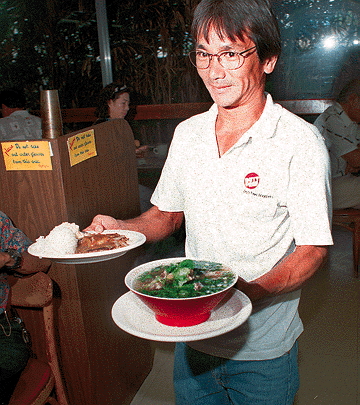 Lane Matsumoto, a waiter at Kapiolani Coffee Shop,
serves up another bowl of their No.1-pick oxtail soup.
---

Kapiolani tails No. 1
in the bowls

You voted, we tasted and tabulated;
now the returns are in and
we have a winner
By Catherine Kekoa Enomoto
Star-Bulletin
---

THE election's over. The results are in. And the winner of the Star-Bulletin's Great Ox Election is ... Kapiolani Coffee Shop.

The coffee shop edged out by 0.045 of a point Frieda Takaki of Wahiawa for the title of best oxtail soup maker in Hawaii.

A taste-off fielded three finalists - Kapiolani Coffee Shop, Columbia Inn Kapiolani and home cook Takaki.

The energetic Takaki, president of CHART Rehabilitation of Hawaii, offers a hearty potage with generous measures of shiitake mushrooms and crisp-tender mustard cabbage. The vibrant soup stock carries shiitake overtones, while Columbia Inn's compelling soup stock is flavored with shoyu and lots of cooked greens.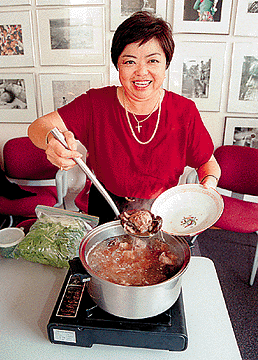 Finalist Frieda Takaki ladles her meaty oxtail soup with shiitake.
By Craig T. Kojima, Star-Bulletin
---

But three of five judges favored Kapiolani Coffee Shop, which, despite its name, is located in Kam Bowl in Kalihi. Judges liked its traditional, clear beef broth, offering a straightforward, local-style source of warmth and comfort.

A total of 188 readers voted in the Great Ox Election. Other nominees included Columbia Inn Kaimuki (28 votes), Restaurant Sada (6), Flamingo Restaurant Windward (5) and Flamingo Restaurant Kapiolani (4).

The tale of the tail starts with Kapiolani Coffee Shop chef Marino Sagucio, who emigrated to Hawaii 10 years ago from Bangui, Ilocos Norte, Philippines. He got his first job at Kapiolani Coffee Shop under former owner and oxtail soup originator Wataru Teruya.

Teruya had trained Sagucio in the vagaries of oxtail soup for two months when the restaurant changed hands to current owner Gary Mijo. But Sagucio still makes oxtail soup from Teruya's "confidential" instructions.

The restaurant serves oxtail soup from 7 a.m. to 11 p.m. daily. The tail of the tape reveals the enormous amounts of ingredients that go into the soup:
20 cases - 400 to 500 pounds - of frozen oxtails every day.

30 large bundles - each 1-1/4 inches in diameter - of Chinese parsley every day.

A 30-pound case of fresh ginger every two days.

70 pounds of green onions a week.
Sagucio fires up the eatery's modest, six-burner gas stove at 6 a.m., with 40-quart cauldrons crowning each burner. When the cauldrons - one-quarter filled with fresh water - start boiling, Sagucio and his 26-year-old assistant Ty Tang dump in the 400 pounds or so of oxtails. The tails are parboiled for 45 minutes.

Then, the oxtails are drained and rinsed three or four times with running water. Two kitchen crew members use machete-sized knives to trim the fat from the mountain of oxtails. The cooks reboil the oxtails in water to cover, plus "secret" ingredients, and simmer the soup for 2-1/2 hours. Chef Sagucio uses a ladle to skim fat off the finished broth.

Assistant Tang says parboiling and rinsing the oxtails are key steps in preparing Kapiolani Coffee Shop's soup.

"Our soup looks clear and there's not too much oil on top," Tang said. "(Customers) order frozen gallon containers to go mainland, Las Vegas and outer islands."

And, diners queue up during peak hours of 10 a.m. to 2 p.m. weekdays, according to head waitress Joy Tolentino. She said celebrities are legion among oxtail fans, including actor Jason Scott Lee and comedian Mel Cabang.

Gordon Wong of the Carpenter's Union dipped into a steaming bowl Friday and pronounced, "Excellent, excellent." He stops by for an oxtail fix once or twice monthly, usually for breakfast at 7:30 or 8 a.m. "I like the garnishes of green onion, Chinese parsley and ginger-shoyu sauce," he said.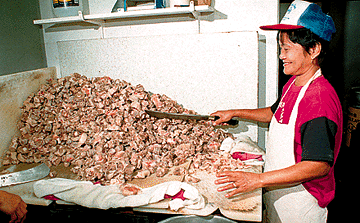 Arsania Tolentino, left, trims the fat from the 400 to 500 pounds
of oxtails that go into a day's worth of Kapiolani's soup.
---

Diner Joseph Newman confirmed, "The soup is good. I have no complaints - except for the bowling balls. I can't hear. They should put soundproof glass ... "

In all, 27 restaurants and 11 individuals were nominated by readers. For oxtail adventurers seeking new horizons, other vote getters included Stadium Bowl-O-Drome, Ken Fong Restaurant, Zippy's Restaurants and, for members and their guests, Waialae Country Club. Also, College Walk Diner, Chinatown's Eastern Food Center, Like Like Drive Inn Restaurant, Sushi Ten, Wailana Coffee House and The Wisteria.

Milton Hee of Punchbowl lauded Ken Fong Restaurant's soup served with noodles and lotus root.

KenLyn Lum of Makiki e-mailed raves about Restaurant Sada's version: "It's cooked for three days ... served with rice or saimin. I wish Restaurant Sada would also include it on its dinner menu."

City executive TV producer Courtney Harrington nominated City spokeswoman Carol Costa's oxtail soup as "hard to describe ... but it has nice consistency."

While kingpin Kapiolani Coffee Shop's formula remains a secret handed down from Teruya, runner-up Takaki graciously shared her impressive home-style recipe, of which one nominee, Cheryl Takashima, wrote:

"Perhaps it's just a coincidence that my friend Frieda was born in the year of the ox and that she makes the best oxtail soup I've ever eaten ... The smell??! It's like walking into my grandma's house for dinner and knowing that she had spent the whole day in the kitchen simmering away. Mmmmm!!!"
---
Frieda Takaki's Oxtail Soup
5 to 6 pounds lean beef oxtails
15 large dried shiitake mushrooms
6 ounces raw peanuts (2 3-ounce packages, available in Asian section of supermarkets, or 2 handfuls)
2 pieces (2 inches each) fresh ginger, cut in 1/8 inch slices
10 cups low-fat chicken broth, canned or homemade
1/3 cup liquor, preferably Seagram's whiskey
1 or 2 whole star anise, optional
2-1/2 teaspoons salt or to taste
2 bunches kai choy (mustard cabbage), cut in 1-1/2-inch-wide pieces

Garnishes:

3-1/2 tablespoons thinly sliced green onions or to taste
3-1/2 tablespoons chopped fresh cilantro or to taste

Dipping sauce:

2 tablespoons grated fresh ginger or to taste
3-1/2 tablespoons soy sauce or to taste
In a large pot, place oxtails and add water to cover, about 10 cups; boil 25 minutes. Drain oxtails and rinse under cold running water. Cut all excess fat from oxtails.

In a clean large pot, place oxtails and add water to cover, about 10 cups. Bring to a boil and add shiitake mushrooms, peanuts, ginger, chicken broth, liquor and, if desired, star anise.

Simmer 3 hours or until oxtail is tender and almost ready to fall off the bones. Add salt. Use ladle to skim off as much fat as possible from top of soup.

Just before serving, bring soup to a boil and add kai choy. Garnish each bowlful of soup and serve with dipping sauce.

Makes about 10 servings.
---

Approximate nutritional analysis per serving: Unavailable due to differences in size, fat content and preparation of oxtails.*
---
What voters said ...
WHO needs the media for hyperbole, with voters rhapsodizing on their ballots? Voter Wayne Saruwatari of Mililani wrote of Kapiolani Coffee Shop, "Tried others! No comparison! Best in town!"

Likewise, Karen Kung and S. Francis of Makiki raved of the winner, "No matter how hot the weather is outside, we must stop by at least once a week for a bowl full of ultimate gratification and satisfaction."

Eric Li e-mailed from Pittsburgh: "You get two heaping scoops of rice and a large bowl of soup with tons of oxtail. I must say every time I go back to Hawaii I'll stop by once at Kam Bowl for you know what ... "

Anna Walters of Kalihi Valley wrote, "Onolicious!! I cannot praise it enough."

Steve Silva of Alewa Heights added, "I found its (Kapiolani's) new location by accident. What a miracle."
---
---