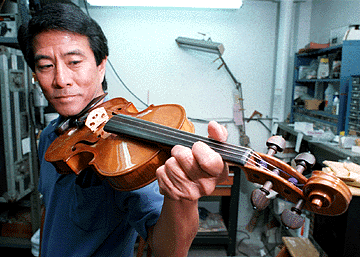 Miles Shigemura makes beautiful violins, first of which was Opus I, above. By Ken Ige, Star-Bulletin
---
No Fiddlin' Around

Miles Shigemura's violins are amazing works of art, especially considering he's never actually played one
Story by June Watanabe
Star-Bulletin
---

FORGET the loneliness of a long distance runner. Or a Maytag repairman.

Consider the loneliness of a violin maker, believed to be the only professional one in Hawaii.
Miles Shigemura crafted his first violin 15 years ago. His business card reads: "A Violin Shop/Miles Shigemura/Violin Maker." But he's made only three since 1981 and it'll take $10,000 and 2-1/2 years if you want him to make one especially for you.
It's not that he's not ready (he has enough wood, imported originally from Europe and seasoned for 70 to 100 years, stored in Igloo ice chests at home, to make another 20 violins); not willing (his card says it all); and not able ("I made all my mistakes in the first violin," which still was judged among the top 16 in sound, out of 175 entries, in the 5th Annual International Violin Makers Competition in Salt Lake City, Utah, in 1982).
It's just that, being in the middle of the Pacific Ocean, there isn't much of a market for custom-made violins. Shigemura figures there are about 500 violinists (not counting students) in the state. In the early 1980s, a violin maker from Singapore set up shop in Honolulu. By 1985, he left the islands and Shigemura took up less exacting work, both forced out by the lack of business.
Nowadays Shigemura's helping to make music again, but whatever commission he may get to make a violin will have to play, well, second fiddle, to his regular-paying job fixing fiddles.
Maile Reeves, who plays in the first violin section for the Honolulu Symphony Orchestra, has owned a Shigemura special for 2-1/2 years. It has a major ding and some minor ones as well, but the sound that emanates from it still draws compliments, she said.
She'd been looking for a new violin for more than a year, when Shigemura - who had done repairs on her old instrument - casually said one day, "Why don't you try this?" Unbeknownst to Reeves, he had been making a violin with her playing style in mind.
Reeves borrowed it for a month and never brought it back.
"I was looking for something with power, where the lower notes will speak and have a depth of sound; something that was even-sounding from the bottom to top. That's the mark of a good instrument," she said. Shigemura's violin "speaks to my passionate style."
Reeves' husband, Kaimi, observed: "I've come to learn, as a spouse and amateur musician, how tremendously subjective the selection of a violin is.
"You always think, 'Well, this is a Strad and very expensive,' or the wood came from Yugoslavia and is aged 100 years. All those elements exist, but (making a violin) is much more a crafting it for the (individual) musician."
Shigemura, who looks much younger than his 51 years, is an unlikely maker of such delicate instruments. For one, he doesn't play any stringed instrument, much less a violin, but does have "good musical ears." Although he grew up in a family that loved classical music, he was lured more by the brassy sound of the trumpet.
But playing, repairing or making musical instruments weren't in his thoughts as a kid. After graduating from Roosevelt High (Class of '63) and spending time in the Army, he went into watch repair (his father used to run the watch concession at Sears Roebuck), became an auto mechanic, then a truck driver. Even today, his passion is for things on wheels, namely Harley-Davidson motorcycles.
The violin connection? His ex-wife taught the Suzuki method of violin playing and he discovered, "I was mechanically inclined" to repairing violins. From that point, with no training in woodwork, "I challenged myself to make one."
His friend of 33 years, Danny Hee, "couldn't believe it when he said he was going to make violins." Hee knew Shigemura as a fellow race car enthusiast, so "it was something totally outside of what he normally did. But he has the patience."
Hee, who plays slack key guitar for fun, has been after Shigemura to make him a guitar. "As a musician, you look for a certain sound," he said. "If someone can build you an instrument with that sound, you'll pay for that."
But Shigemura shakes his head, for the umpteenth time, no. Guitars are "too big."
What he wants to do is "start making good-sounding ukes, using the violin theory," which means defining sound by the various thicknesses of the instrument.
Legendary violin makers, like Stradivari, made their instruments asymmetrical - thicker on one side, Shigemura said. The thinner the wood, the louder the sound. A violin can also be made to sound more bass, more treble or neutral.
For Shigemura as a would-be Stradivari, the Utah competition was pivotal. It taught him many things, including his perception that "80 percent of the (competitors) didn't know what they were doing even though they make violins for a living. They had gone in the wrong direction and it was too hard for them to change (their methods)," he said.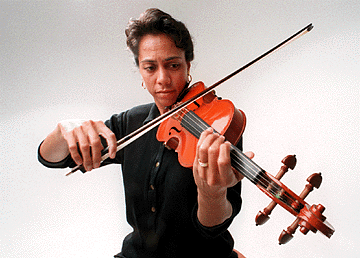 Maile Reeves plays the violin that was made for her by Miles Shigemura. By Dean Sensui, Star-Bulletin
---

When Shigemura looks at Opus I, his first creation, he readily admits, "This is where I made all my mistakes ... It's a quarter-inch oversized here," he said, touching the bottom. "I didn't make the corners right. I just rounded them off."

But his Utah showing spurred him into learning more about the craft, studying all the theories, attending seminars, then pursuing it as a career.

Always it's been a struggle. "All I do (now) is repair work," Shigemura said. "I started doing uke repairs because there wasn't enough with violins."

"It's almost like a prophet has no honor in his own land," Kaimi Reeves said. "If Miles were in a major metropolitan area on the mainland, people would be beating a path to his door. He's gifted. He's meticulous. He doesn't let his own ego get in the way."

After he was forced, in 1985, to find something that would earn him a living, Shigemura went into appliance repair, bartending and then to the Sheraton Waikiki's beverage department. One Christmas, he heard a group of local high school kids playing in the hotel lobby and saw the sad shape of their instruments. He was drawn back to violins.

Auspiciously, Harry's Music Store, the venerable music emporium in Kaimuki, was looking for someone to run the violin department. In 1991, Shigemura set up his concession in a back corner of the cavernous store. A violin hung upside down sounds whenever the door opens to that backroom, where the drum repair and band instrument repair guys also work.

At a narrow table, lit by fluorescent lights, Shigemura mends precious, oft-played instruments, most of them with open seams or needing new bridges. About two dozen black and brown violin cases sit on a green metal shelf.

Next to that stand a vintage German bass ("authentically restored") and two intriguingly odd-looking instruments: a collapsible bass and a collapsible travel cello, both made by

Shigemura.

It was Steve Pologe, a former first cellist with the Honolulu Symphony, who asked him to come up with an instrument he could carry on an airplane. The bass, selling for $1,425, will collapse and fit on the front seat of a Volkswagen bug, while the cello, $1,500, taken apart and stuffed inside its body, will actually fit into the overhead compartment of an airliner, Shigemura said.

People from around the world who saw Pologe's unusual instruments started placing orders, but "I think I got just about everybody who would buy one of these," Shigemura chuckled.

It took him only a couple of weeks to build the collapsible instruments, which don't have the extra attention to detail that a violin requires. If he didn't have his repair work, it would still take six months to build a violin. Most handmade violins nowadays cost $7,000 to $10,000. Compare that to factory-made ones from Germany, which generally cost $700 on down, he said. China-made ones can be as low as $100, but "are real crude," he added.

For finer violins, the wood alone can cost $2,000. Opus I, for example, is made of maple from Croatia that was aged 100 years. Aging - or "seasoning" - is vital to preventing the wood from warping or cracking.

Shigemura starts with a handmade mold in the shape of a violin. He shapes, shaves and planes the body, trying to achieve a certain thickness here, thinness there. Different types of wood are used for different parts, typically a maple bottom and a spruce top and neck. The chin rest is often made of ebony.

While he clearly loves working with violins and would love to make another one, it's not the driving passion in his life.

"I've always been on two sides - classical and hot rod," he laughs. "Right now, I'm into Harleys ... Sundays are for Harleys."




---
---