Hawaii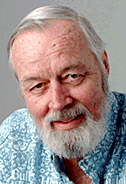 By Dave Donnelly
Tuesday, May 7, 1996
---
Broken sign, lost art have happy 'N'ding
TODAY'S question: Is there an 'n' in "Aloha?" The answer, surprisingly, is yes! For a week, Laurie Baron of Nohea Gallery, had been trying to find a source for a replacement for the broken "N" in the Nohea sign at the Kahala Mandarin Oriental Gallery. Here's the coincidence-laced story: A fellow named Jorge from the Delta baggage claim desk in San Diego called Baron at her Ward Warehouse Nohea Gallery, trying to locate the owner of a painting left on a plane there. Some checking showed the painting (by Kalani and Carrie Lingle of Maui) had been purchased at Nohea's Kahala Mandarin site by one Howard Hirsch of the Hirsch/Bedner company in Santa Monica. Painting reunited with owner - all were delighted. Then Baron, thinking her work on the project was done, went through some faxes which had piled up and there was one from the same Hirsch/Bedner company, reporting progress in locating the replacement "N" for her broken sign. None of the parties knew of the work done in the other's behalf, but kokua and aloha flowed ...

WITH all the new user fees enacted by the "DUD" 18th Legislature, Rep. Cynthia Thielen (who opposed user fees) queried House Speaker Joe Souki as to whether the state now planned to install parking meters by the $17,000 koa benches at the State Capitol and charge people to sit ... And the only way I'd like to see this Legislature called back into special session would be if we charged them for the use of the space. Why compound felonies already committed? ... There'll be a memorial service for former Beach Market owner George Shimizu tomorrow at 6 p.m. at Hosoi Mortuary. He and his brother Eugene kept the old K-POI gang fed back in the '60s ...

SCREWS and bolts: Bert Tokita of Slim's Power Tools showed he's not just an administrator. He entered Slim's third annual "He-Man" contest and won first place by hammering 10 nails, sawing two 4-by-4s, screwing 10 bits and unscrewing three screws, all in 2 minutes, 25 seconds. Not bad for a grandpa ...
Mass attack
Monsignor Daniel Dever

MONSIGNOR Daniel Dever, who headed Hawaii's Catholic schools for many years, is recuping at St. Stephen's at the foot of Nuuanu Pali from a serious heart attack. It happened as he was conducting a Mass. Luckily, two physicians were attending the Mass, Drs. Roger and Maria Brault and, recognizing the symptoms, arranged for an ambulance to take him to St. Francis Medical Center. As fate would have it, a cellular phone in the congregation helped, too ...

THE next "Emme's Island Moments" on KHNL on Sunday deals with localites now in the Seattle area, but Emme Tomimbang found so many - 24,000 with local ties there - that the segment fairly cries out for a sequel. Left out were such well known former Hawaii media personalities as Bob Sevey (retired), Marisol Borromeo (now with Boeing), Lori Matsukawa (an anchorwoman in Seattle) and former isle sports reporter Susan Hutchison. Emme also failed to include the all-Asian cast of "The King and I" at the Seattle Civic Light Opera. Former islander Mary Levine is musical director of the show and seven cast members have island ties, including the King, Stan Asis. Others in the show are Jasmin Jonas (Tuptim), Audrey R. Fan, Lisa Pan, Maydene Pang, Autumn Sakai and the intriguingly named Karl Marx H. Reyes. Levine learned of the island connection at the first rehearsal when she called out, "Hana hou!" and there was a whoop of recognition ...
You can call me Ray
Raymond Kane

IT'S a long way from Carnegie Hall to the Pahala Library, but slack key guitar master Raymond Kane doesn't consider it a step down at all. Uncle Ray gifted the people of New York with his artistry and at 75 is happy to be still performing, this time in a series of free concerts sponsored by UH. He'll perform at 6:30 p.m. Thursday at Hilo Public Library, at 3 p.m. Friday at Pahala Library and at 4 p.m. Saturday at the South Kona Education Association ...
---



Dave Donnelly has been writing on happenings in Hawaii for the Star-Bulletin since 1968. His columns run Monday through Friday. Contact Dave by e-mail at donnelly@kestrok.com.
---


Hawaii by Dave Donnelly is a daily feature of the Honolulu Star-Bulletin.
© 1996 All rights reserved.
---
---